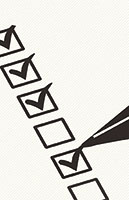 PR- AND
MARKETING-CHECK
ANALYSIS, BENCHMARK, RECOMMENDATION FOR ACTION
PR- AND MARKETING-CHECK
PRESENTATION TO THE

TEST

A compelling offer should be well packaged. Only those who presented attractively in its target group, is perceived by her. Therefore are in PR and marketing profitable potentials: to prove the performance and strengths – and thus give customers good reasons to choose for the offer again and again!

The answer requires an objective assessment and the best from the outside. ars publicandi provides for this the PR- and Marketing-Check for a fixed price – with full credit for repeat orders.
DETECT SHORTCOMINGS IN PR AND MARKETING
● Press relations
● Brochures
● Reference sheets
● Presentations
● Advertising motifs
● Web worlds
● Office stationery
● […]
➜ distributors | continuity | evaluation results
➜ concept | target group affinity | approach
➜ conversion fitness | content | corporate design
➜ structure | clarity | speech quality
➜ image affinity | significance | appeal
➜ user-friendliness | Google ranking (SEO) | compliance
➜ corporate design | consistency | document templates
Please ask for our numerous credentials!