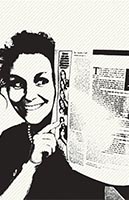 THEME
MAGAZINES
AND CREDENTIAL FLYERS
CUSTOMER MAGAZINE CUSTOMER FACT SHEET EMPLOYEE MAGAZINE CASE STUDY MEMBER MAGAZINE FESTSCHRIFT PARTNER MAGAZINE TESTIMONIAL SUCCESS STORY
TOP FORMAT WITH ARS PUBLICANDI
TOP FORMAT

WITH STYLE

The gain and bind of new and existing contacts add to the most important tasks in a company. The quality of the marketing documents is a critical success factor for both.
WITH CLEAR STATEMENTS INTO THE TARGET GROUPS
– full service: conception, research, editing,
coordination, layout & design, image choice, type,
proofreading, print and shipment
– research and coordination with both internally and
externally involved
– terms compliant preparation of target formats
– print- and online versions
– interface to content marketing
Please ask for our numerous credentials!