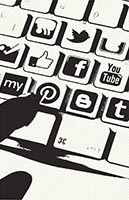 SOCIAL
MEDIA
FIRMLY INTEGRATED AND PARTICIPATING
XING TWITTER FACEBOOK GOOGLE+ YOUTUBE WEBINARS LECTURES WORKSHOPS GHOST PROFILING
COMMUNICATE NETWORKED WITH ARS PUBLICANDI
COMMUNICATE

NETWORKED

Not every social media platform suits any business. With the right approach however, networked communication enables interesting opportunities for all business segments.
INFORMATION SHARED ONLINE
– target group analysis and concept of persona
– market- and competitor analysis
– development of appropriate social media presences
– micro blogging services: editorial plans,
texts, infographics
– active networking in social media channels
– tools and methods of performance measurement
Please ask for our numerous credentials!