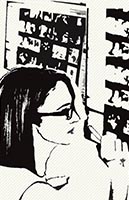 ADVERTISING
DESIGN
STAND OUT AND STAY PRESENT
PRINT ADVERTS INSERTS POSTER ADVERTISING MOBILE ADVERTISING SPECIAL FORMATS BANNER ADVERTS CINEMA ADVERTISING TV ADVERTISING RADIO ADVERTISING
PERSUASIVE ADVERTISING WITH ARS PUBLICANDI
PERSUASIVE

ADVERTISING

First impressions count but only the second are convincing. Therefore well designed advertising always appeals emotionally as well as contentually.
ADVERTISING EFFICIENTLYIN WORD AND PICTURE
– target group oriented communication
– stand out from other advertisement
– draw attention to the key message
– focus advertising message
– call to action
– motivation to establish contacts
Please ask for our numerous credentials!